The world travel industry keeps changing and every next cruise season brings something new and exciting. New opportunities, new routes, new museums and exhibitions. Here's what to look out for in St. Petersburg in 2019 cruise season.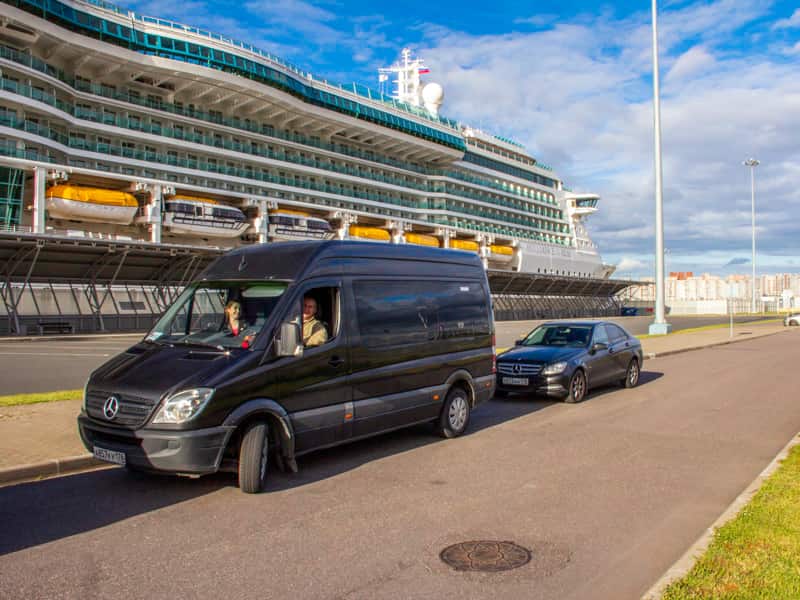 For the information on public transport, port access and booking museum tickets on-line check the post "In the Run-up to 2018 Cruise Season"I wrote a year ago. It contains detailed descriptions, maps and links – nothing has changed since that time.
Marine Façade Passenger Port in 2019 Cruise Season
One of the novelties of the Marine Façade passenger port in 2019 is 90-minutes time slot in favour of cruise organized tours. From now on only those cruise passengers who bought cruise-organized tours are allowed to disembark during the first 90 minutes after a cruise ship's arrival. Certainly this was done under a good pretext of traffic and crowd management, but in reality cruise companies managed to force through this decision, so that passengers of cruise organized tours don't see any other alternatives and possibilities.
Every rule has exceptions:
Cruise passengers who obtained regular tourist visas to Russia through the Russian Embassy/Consulate do not fall under this rule and can disembark at any desired time;
Citizens of visa-waiver countries (e.g. Israel, Argentina, Chile, Brazil, Venezuela, etc.) are also free to go ashore when they wish;
Physically challenged cruise passengers can go ashore for accessible tours at any desired time;
Cruise passengers who have long-distance day tours (to Moscow or Veliky Novgorod, for instance) are free to disembark early.
The other thing to keep in mind is that museums in St. Petersburg do not open before 10:00 or even 10:30 a.m. (depending upon the museum), so there is not reason to sustain sleep deprivation and disembark earlier than 9 a.m. Our experience shows, that no matter how interesting the tour is, if it starts at 7 a.m. it makes tourists completely exhausted by 2-3 p.m.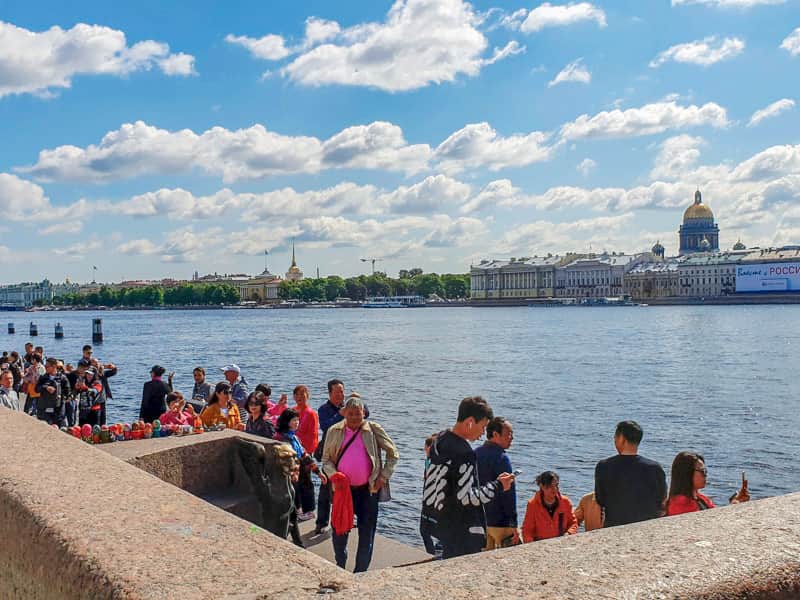 Beware Threats When Visiting St. Petersburg
St. Petersburg is a big city with the population over 5 mln people. It has all the dangers and threats of a big city. Common sense is useful: follow basic safety rules appropriate in any destination. Among the top risks are pickpockets, taxi-drivers and traffic.
Beware Pickpockets
As any big tourist destination, St. Petersburg attracts robbers and pickpockets not only from Russia but also from some European countries. They look for their victims not only in the crowded streets and public transport, but also inside popular museums. It's a shame but cases of pickpocketing in the Hermitage and in Peterhof have become more frequent. It's wise not to carry anything valuable in the pockets.
The most valuable thing for a cruise passenger is the passport, especially provided we have neither the US consulate nor the British consulate in St. Petersburg anymore. So, losing the passport means that you won't be able to leave Russia for at least a week or so (the time needed to travel to Moscow and go through all the paperwork and transit visa procedures). In the end you will eventually get home, but your vacation will be completely ruined.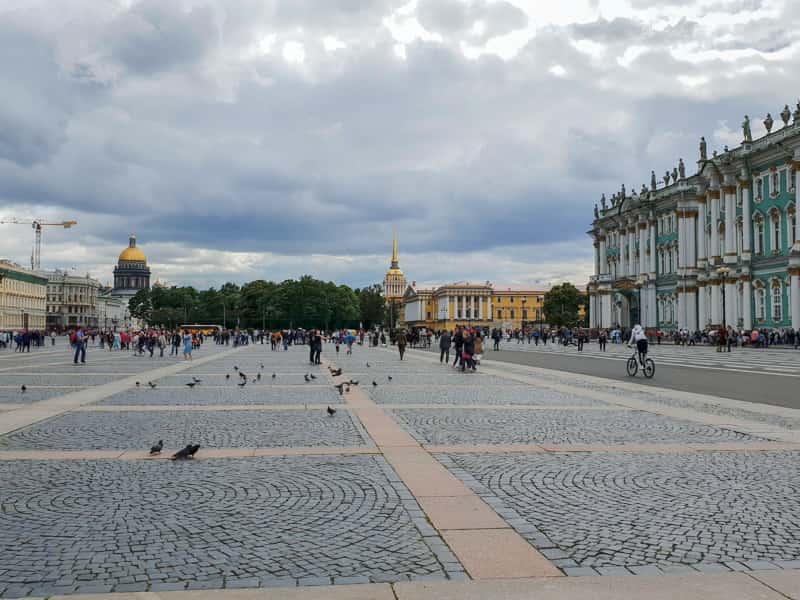 Taxi in St. Petersburg: Threats and Safety Tips
So, you've made up your mind to explore St. Petersburg on your own, obtained a visa and opt for a taxi downtown. Use either the official taxi in the port (taxi stands can be found inside each terminal). The manager will tell you everything about tariffs and you will know the price before you get in the car. They have vans for bigger groups too. The official port taxi is quite expensive.
Über and Gett apps work in St. Petersburg perfectly well. This is another secure option. Note that neither Über nor Gett will be able to pick you up from the terminal – the closest they can wait for you is behind the bars closing entrance to the port territory.
Never ever use any of the unofficial taxis waiting to entrap customers outside the port territory. St. Petersburg has a great number of foreigners from the former Soviet Union republics working as drivers on such taxis. Besides the fact that they are not locals and don't really know the city, they can easily trick you out of your money. In a word, a dirty smoked car with slimy seats is the least unpleasant thing in such a taxi ride.
Beware Traffic
To describe the traffic situation in a nutshell: the roads are busy, the manner of driving is quite aggressive and traffic rules don't always work. Be extra careful when crossing the streets: on a pedestrian crossing with the green light make sure the cars have stopped first and only then go. Some drivers like bending rules and allow rule violations.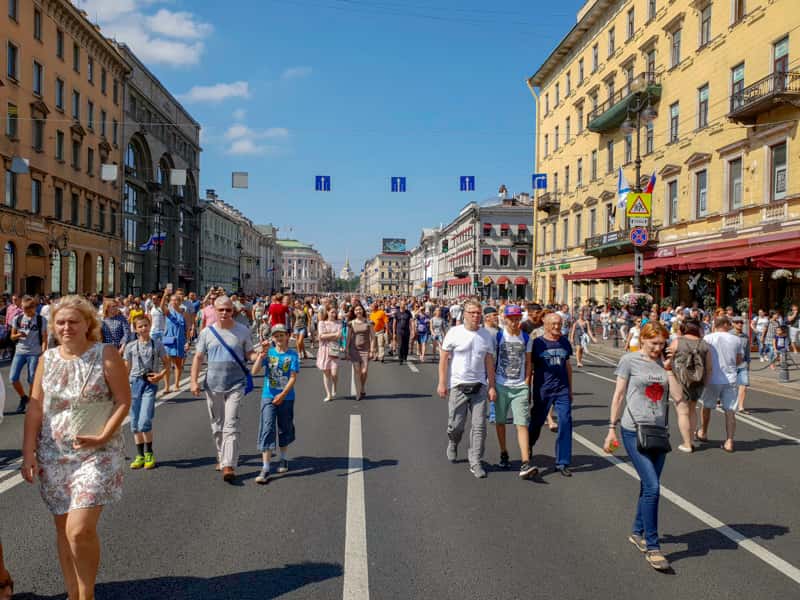 St. Petersburg City Pass Now Includes 80+ Museum
Practically all famous travel destinations have so called city passes. I am sure well-travelled people have used a city pass at least once in some European city. St. Petersburg doesn't want to lag behind. Several years ago a city pass called "St. Petersburg card" was introduced, and immediately it proved efficient. Each year more and more museums join this program. In 2019 cruise season St. Petersburg city pass encompasses 80 plus museums. Such famous and popular venues as Peterhof museum complex, Catherine Palace and Park (in Tsarskoye Selo, town of Pushkin), Peter and Paul Fortress, St. Isaac's Cathedral, Church on the Blood, Russian Museum, Political History Museum and many more.
Take into consideration the following: the main complex of Hermitage Museum is not included in St. Petersburg city pass. Out of the Hermitage complex only the General Staff building is included. On one hand you will benefit to see the famous Hermitage collections of Impressionists and Postimpressionists alongside with some other interesting temporary and permanent exhibitions. On the other hand it's a pity as one won't see the lavish rooms and reception halls of the Winter Palace and treasures of the West European Old Masters' collections. The best way to secure your visit to the Hermitage (main museum complex) is to book tickets on-line.
Besides museums and exhibitions, St. Petersburg city pass includes transportation (boat trips, hop-on hop-off bus and hydrofoil rides to and from Peterhof).
There are 2 and 3 day cards, for those, who fly in or come by rail and stay in hotels 5 and 7 day cards are available. The costs are quite moderate. Thus a 2 day St. Petersburg city pass costs 3890 RUB (around 60 USD by the current exchange rate).
New in the Museums
Peterhof
Peterhof, being an extensive museum complex, as a rule has a lot of news. But first and foremost: photo and video is allowed again inside Peterhof museums!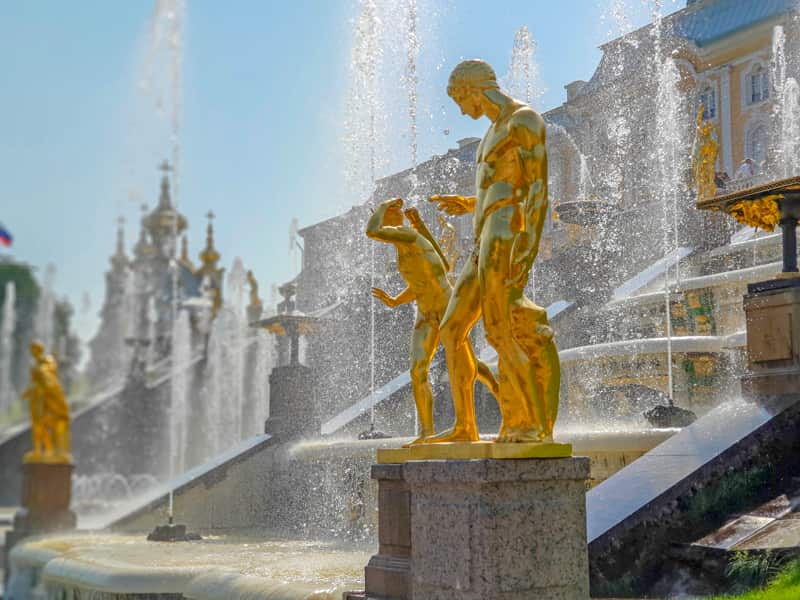 Peterhof has over 20 palaces, pavilions and exhibitions. Of course, restoration is a common thing in any historic sight. So, in Peterhof something is usually closed for the restoration and something is newly opened after it. In 2019 the neat baroque Palace of Peter III in Oranienbaum has opened its doors to the public again.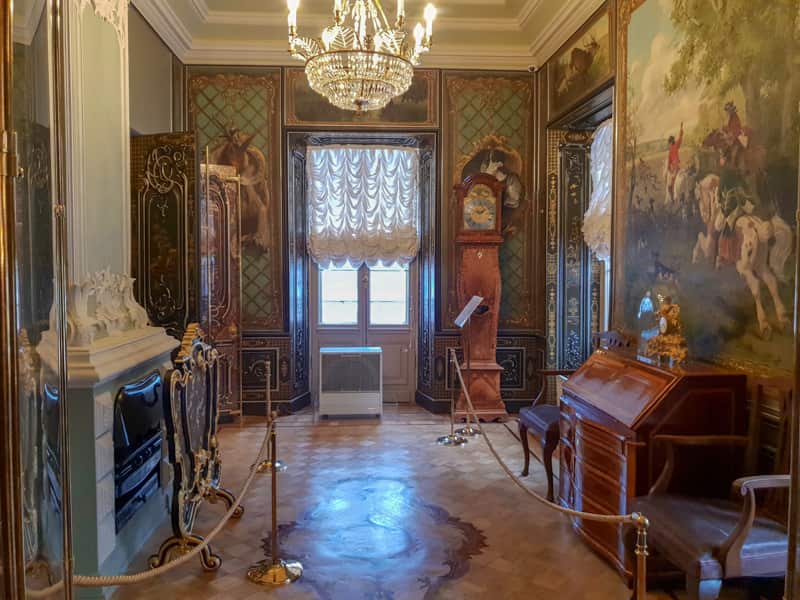 In general, Oranienbaum has a lot of renovation works finished in the Grand Menshikov Palace, more and more rooms are available for the tourists to visit alongside with newly restored garden pavilions.
In Alexandria the famous gothic Cottage Palace (private palace of Nicholas 1 and his family) will open by summer. Besides, a few years ago the Farm Palace of Alexander II was open to public. If you haven't yet visited it – I would recommend including it in your tour plan, as the Farm Palace is one of the rare museums that gives an idea of the way of life of the royal family, habits and lifestyles of the nobility. A separate exhibition in the palace is dedicated to "dacha" traditions – summer country mansions and houses, summer life style of people of various social stand.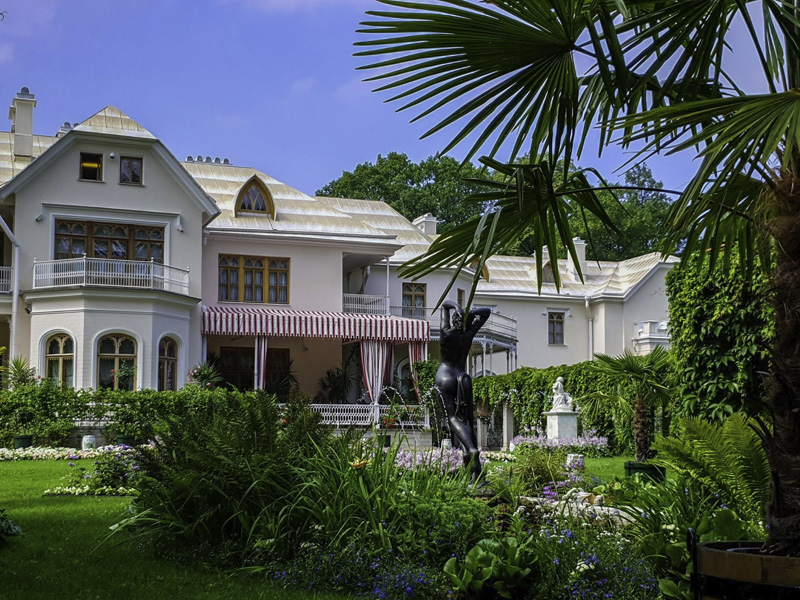 State Hermitage
The Hermitage always has something on. For instance, right now there are exhibitions dedicated to Peter Brueghel the Younger and Jacob Jordaens. Check the Hermitage official website not to miss interesting exhibitions at the time of your visit.
For those visiting in May: the General Staff building of the Hermitage (collections of Impressionists and Postimpressionists) will be closed on May 15-17. This is due to St. Petersburg annual Legal Forum, that takes place in the General Staff building.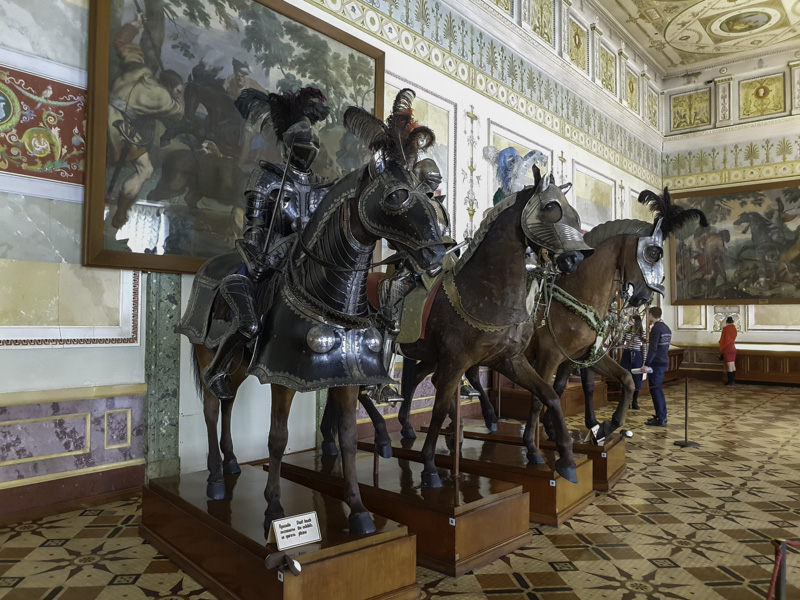 Faberge Museum
Faberge Museum hosts the exhibition "Viva la Vida. Frida Kahlo and Diego Rivera", it will be on till May 20, so if you happen to visit our city in early May you have a chance of including this exhibition in your cultural program.
Catherine Palace and Park in Tsars' Village (Tsarskoye Selo)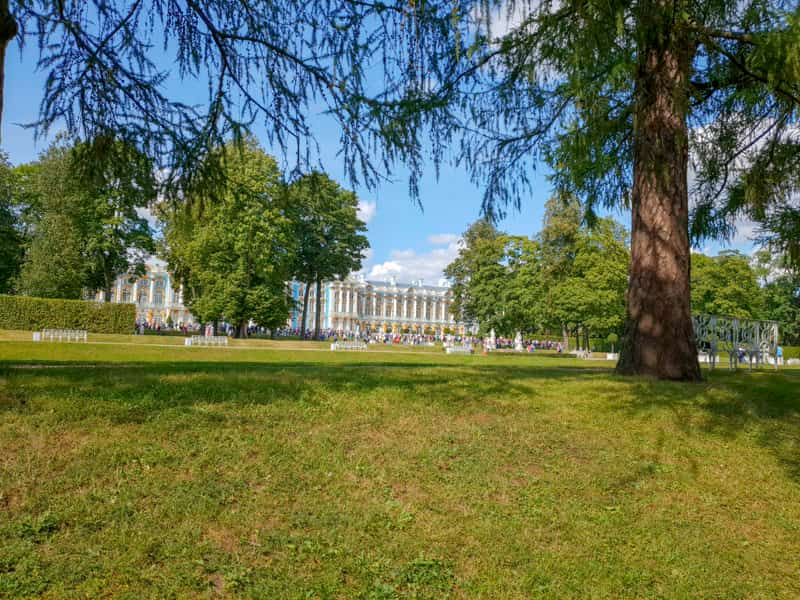 We'll be happy to greet you in St. Petersburg! If you have any questions, you are welcome to post them in comments below.