Choose: Visa or Visa-free?
The new 2018 cruise season is approaching in St. Petersburg. Happy tourists, who just booked their Baltic cruise are now looking at the cruise-organized tour options or securing tours with independent local tour operators, like our company. No wonder: such pre-arranged shore excursions guarantee visa-free exit from the cruise ships.
Our tourists enjoy famous St. Petersburg tourist attractions as part of small or big private tour groups.
Cruise passengers also can go ashore on their own without a pre-booked guided tour in St. Petersburg if:
They have obtained regular tourist visas to Russia from the Russian Consulate/Embassy. Note: the visas should be multi-entry ones.
They are citizens of visa-waiver countries (e.g. Israel, Argentina, Chile, Brazil, Venezuela, etc.)
Getting Around St. Petersburg on Your Own
Here you are: you have multiple entry visas to Russia in your passports, or you are citizens of Israel or Argentina, etc. In St. Petersburg you go ashore and pass the passport control quickly and easily. So, what's next? How to get to the city centre? There are several options:
Take a taxi. In each of the four Marine Façade sea port terminals there are taxi stands. One can take a taxi downtown or just outside the port territory.
There's also a regular bus that runs between the port and the nearest metro (=subway) station called "Primorskaya". It's only 2 metro stops away from "Gostiny Dvor" station, which is located on Nevsky Prospect in the very heart of the city. Bus 158 picks up people from each port terminal/ It follows a certain timetable, which can be found on the yellow board at the bus stop.
As the port is a restricted access facility, a taxi from the port is quite expensive. The bus costs 40 roubles per person, a metro ride is 45 roubles per person.
One can also use the bus just to go outside the port and get a taxi once behind the access gates. We have Über in St. Petersburg, which is convenient to use and spares the necessity of bargaining with the taxi driver.
For getting around St. Petersburg visitors can use all sorts of public transport.
Subway (we call it "metro") system is very efficient. There are several methods of payment accepted in the subway. We pay for the subway tokens with rouble cash, Visa or MasterCard. Besides there's PayPass.
In local buses and trolleybuses visitors can only pay with rouble cash. There's a conductor in each bus that collects money. If for some reason there's no conductor (which is rare), the passengers need to pay to the driver and exit through the front door.
Petersburg: What to Visit
The most famous St. Petersburg tourist attractions are the Hermitage, Catherine Palace with its Amber Room, Peterhof Palace and fountains.
Hermitage
The State Hermitage Museum is located in the very heart of St. Petersburg. The whole complex includes 5 buildings linked together into the main museum complex. They are: the Winter Palace of the Russian tsars, Small, Old and New Hermitage buildings and the Hermitage Theatre. If you head for the West European Fine Arts collection – the main museum complex is what you need. Across the Palace Square from the Winter Palace there's the General Staff building, which now houses the Hermitage Impressionists and Postimpressionists, Faberge Memorial exhibition and also some temporary exhibitions of the Hermitage.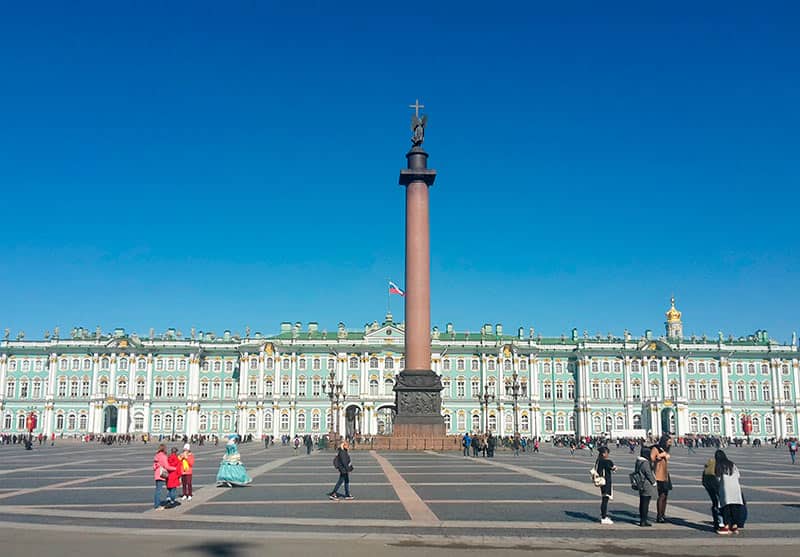 Hermitage Museum Tickets and Visitor Information
The State Hermitage Museum is open daily from 10:30 till 18:00. There are 2 days when the Hermitage has "long hours": on Wednesday and Friday it's open till 21:00. Day-off: Monday.
Hermitage tickets are available on-line Hermitage museum tickets. One can choose to have 1-day or 2-day tickets. As a rule the tickets include the main museum complex and General Staff building. Besides, one can purchase tickets in special ticket machines that are located in the courtyard of the Winter Palace.
Catherine Palace in Tsarskoye Selo (town called Pushkin)
Catherine Palace is probably the most popular and most impressive of all St. Petersburg tourist attractions. Everyone wants to see the legendary unique Amber Room, the 8th wonder of the world!
How to Get to Pushkin
One can use public transport, such as commuter trains or shuttle bus or opt for taking a taxi.
Electric trains in the direction of Pushkin depart from Vitebsky train station (Metro Pushkinskaya). However this year (2018) I do not recommend to use this way of transportation: Vitebsky train station is partially under reconstruction, and all the scaffolds and building works make orientation inside the train station significantly more complicated. At the same time if you persist on taking a train, please note: you'll need to get off on the stop called "Detskoye Selo".
Shuttle buses are more convenient as they come close to the Catherine Palace, whereas the train station in Pushkin is located very far away. Shuttles run every 15-20 minutes from Moskovskaya Metro station.
Catherine Palace: Tickets and Visitor Information
The State Hermitage Museum is open daily from 10:30 till 18:00. There are 2 days when the Hermitage has "long hours": on Wednesday and Friday it's open till 21:00. Day-off: Monday.
The Catherine Palace is open daily except Tuesday and last Monday of each month. The Catherine garden is open daily. Besides there are smaller pavilions and museums comprising the Catherine Palace & Park ensemble that you can consider visiting, such as: Hermitage pavilion, Agate Rooms and Turkish Baths. The Imperial Carriages exhibition is interesting too.
Tickets to the Catherine garden and smaller exhibitions are easy to get on the spot and they are inexpensive (ranging from 150 up to 500 roubles per person).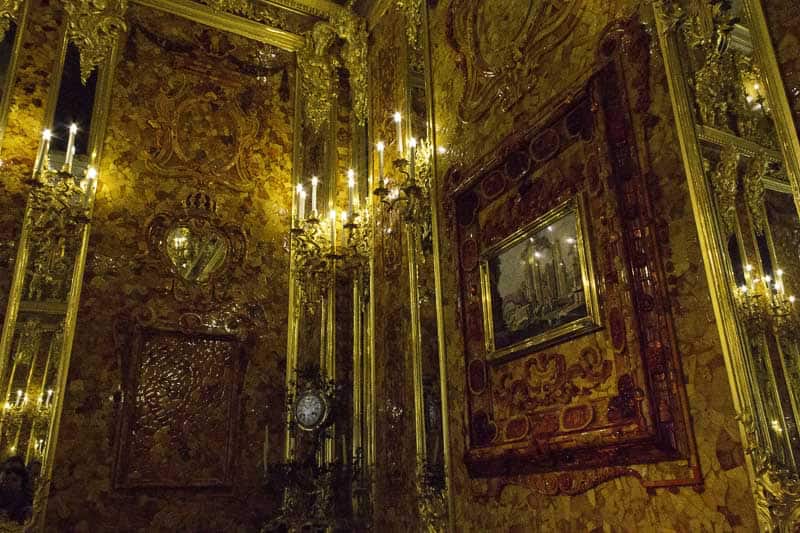 However the main attraction of Pushkin is the Catherine Palace (boasting the unique Amber Room) and that is not so easy to get in. Without the pre-arranged entrance tickets you might still get lucky and after 3 or 4 hours of lining up for entrance tickets you will get inside the Palace. But my obvious advise is to secure tickets in advance. On-line tickets can be urchased directly on the museum website here: E-Tickets
Happy owners of Catherine Palace tickets purchased on-line can enter the palace after noon without much of queuing. Visitors with Internet vouchers will need to exchange them to tickets in a special ticket office (your voucher will contain the instructions on how to find it) and enter the palace from the courtyard side, same entrance as pre-arranged groups.
Beware: on-line tickets are sold out very quickly!
Peterhof Museum Complex
Without a doubt, Peterhof or Petrodvoretz is one of the top St. Petersburg tourist attractions. Picturesque gardens, stunning cascades, ingenious fountains – Russian Versailles never fails to impress.
How to Get to Peterhof
The best way to get to Peterhof is by hydrofoil. A hydrofoil ride across the Gulf of Finland takes 30 minutes – and you arrive straight to the kingdom of fountains. There are several hydrofoil companies in St. Petersburg. The most convenient of the choice is called "Vodokhod". Its pier is located on the Neva, right at the Hermitage. Hydrofoils depart regularly, every 20-30 minutes. The first one starts at 9:30 a.m.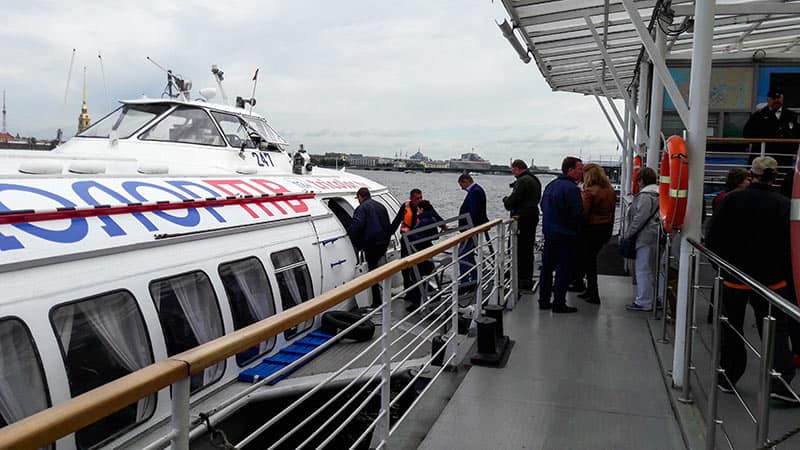 Note: hydrofoils are weather-dependent. In case of low visibility conditions or stormy weather hydrofoils get cancelled. It doesn't happen often, on average twice or three time a season. In this case. The other thing you need to take into consideration is that hydrofoil tickets do not cover entrance fees to Peterhof gardens.
Peterhof: Visitor Information
The main highlight of Peterhof is certainly fountain gardens. The fountains are on daily from late April (in 2018 the first day of fountains will be April 28) until mid-October. The gardens are open from 10 a.m. till 6 p.m. daily, no days-off.
The Upper fountain garden is free of charge. Tickets to the Lower Fountain park as well as Grand Peterhof palace tickets and other 20 palaces, pavilions and exhibitions are available on-line: E-Ticket. Once can certainly get tickets on the spot. On weekends and public holidays lines for entrance tickets are quite long.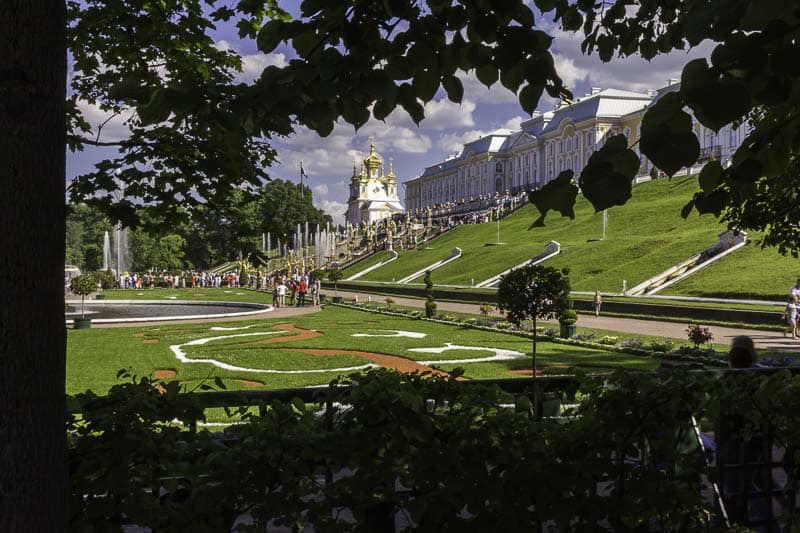 As a rule, people visiting Peterhof are interested to see the Grand Palace. It is open from 10:30 till 18:00 every day except Monday and last Tuesday of each month. Organized groups with pre-arranged admission enter from 10:30 till 12:00 and from 14:30 till 16:30. Walk in customers without guided tours enter from 12 till 14:30 and after 16:30. The tickets are sold at the Grand Palace ticket offices. Audio-guides in European languages are available at an additional fee.
If you travel with kids, Peterhof fountain gardens are an ideal place to spend time – it's a combination of history, science and fun. With kids I would recommend to skip the Grand Palace. Kids always enjoy fountains, especially trick ones that splash passers-by with water all of a sudden. Besides you can head to one of the garden pavilions. Seeing, for instance, Royal Kitchens and Baths will be interesting, besides it's a short visit that doesn't tire the kids.
The City of Museums
St. Petersburg has over 200 museums all in all. Of course, one can't possibly see everything even in a week, let alone 2-3 days. However if you would like to see more than 1-2 museums a day, a pre-arranged tour is recommended. We'll plan the time efficiently and book museum admissions in advance for you.
If you opt just to wander through the streets of St. Petersburg, enjoy coffee and people-watching in a street cafeteria, take a walk in the Summer gardens and listen to the church singing in one of the local temples, shop on Nevsky and take a river and canal boat ride – your stay in St. Petersburg will be no less enjoyable!