All the Orthodox Christianity celebrates Easter today. But due to the pandemic this holiday is not the same as usually. What does coronavirus Easter in Russia look like?
Despite the mass events prohibition and the Russian Patriarch's urge to the believers to pray from home, a lot of people sidestepped the fear of coronavirus and showed up at their local churches. Patriarch Cyril himself held a service in Christ the Saviour Cathedral in Moscow without worshippers. Some small Moscow churches, however, didn't close the doors on believers.
In St. Petersburg the situation was similar. St. Isaac's Cathedral cancelled all the services for April, including the Easter service and the sacred procession. Kazan Cathedral conducted the service without worshippers, but people still came and were praying and waiting for the sacred procession outside. Alexander Nevsky Monastery intended to conduct the service without worshippers, but some people managed to sneak in through the side doors (the main entrance was closed). On Vassilievsky Island people mainly came to St. Andrew's Cathedral and waited for the sacred procession outside. Altogether over 50 people came to St. Andrew's, only but a few had masks and gloves.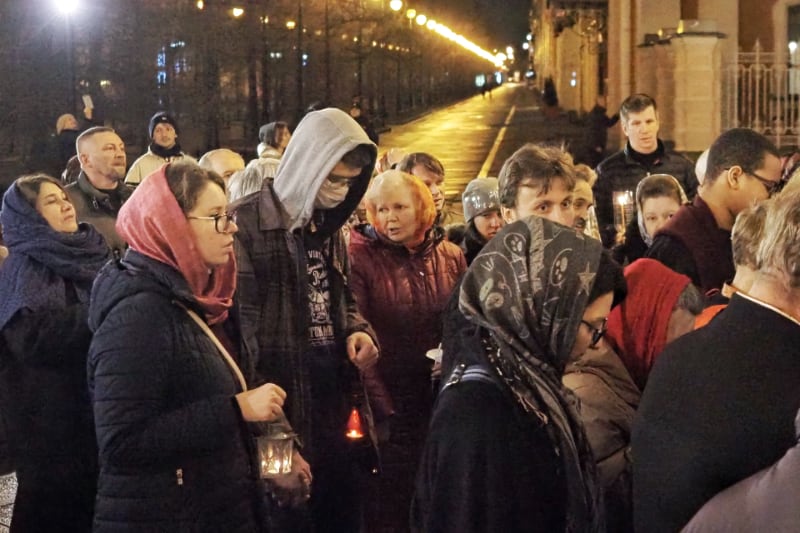 Right opposite my windows there's a small local church. It's new – built a few months ago. It is the only active church in the neighbourhood, so for this Easter it gathered quite a lot of people. People went both inside and outside, participated in the sacred procession and attended the service indoors, as if there is no pandemic at all. Judging by the number of cars parked by the church, there were no less than 40-50 people in it.
Coronavirus Numbers for April 19
The number of cases in Russia keeps spiraling up rapidly: today, on April 19, there are 42853 confirmed cases and 361 deaths. This means that during the last 24 hours over 6000 new cases added. Most of them are in Moscow. The situation in St. Petersburg is not that bad so far: we have total of 1760 cases (114 new cases in the last 24 hours) and 8 deaths. I'm certainly worried that coronavirus Easter in Russia might take its toll, but we always hope for the best.
Staying at Home
What are we doing while staying at home? Well, there's a lot to do that we kept putting off: we review and reconsider our tour programs, prepare to put on new shore excursions. New special interest tours are coming soon, such as food tours and tours for art lovers.
Practically all May reservations have been cancelled. People are waiting whether the tourist season 2020 will start in June or not.
Besides work issues, we cook: Easter cakes are of special interest for kids nowadays.