Grand Layout "All Russia" is a relatively young museum showing Russia in miniature, but it's already gained such a popularity that it's difficult to picture St. Petersburg without it.
Probably everyone knows such a popular hobby as scale modeling. Somebody remembers when he as a kid was keen on cars, tanks or trains. My husband as a kid had a model railroad. I built a miniature Kremlin with matchboxes. Girls often model castles of Lego. My friend's son creates great models of rockets and planes.
Where does it go, when we grow up? Well, studies, work, family… our childhood hobbies revive with our kids. Not always, though, and that's great, otherwise we wouldn't have such amazing things as model City of Sydney or the Great Train Story in Chicago Museum of Science and Industry, wonderful Sab Francisco Bay Model in Sausalito or Manhattan mini-models in the Skyscraper Museum in NY. The biggest and the most famous among such scale models is Miniatur Wunderland in Hamburg, Germany. The most recent model showing all the world is Gulliver's Gate in the heart of the Times Square – just opened in 2017.
Russia in Miniature: Grand Layout
There is such a scale model in St. Petersburg. All Russia spreads on the area of 800 square meters, under one roof. People say, it's ideal for kids. True. Kids rave about this place and want to return here again and again. But I would say, it's also ideal for those visitors of our country who do not have a month or two to explore it: Russia in miniature is a great orientation tour.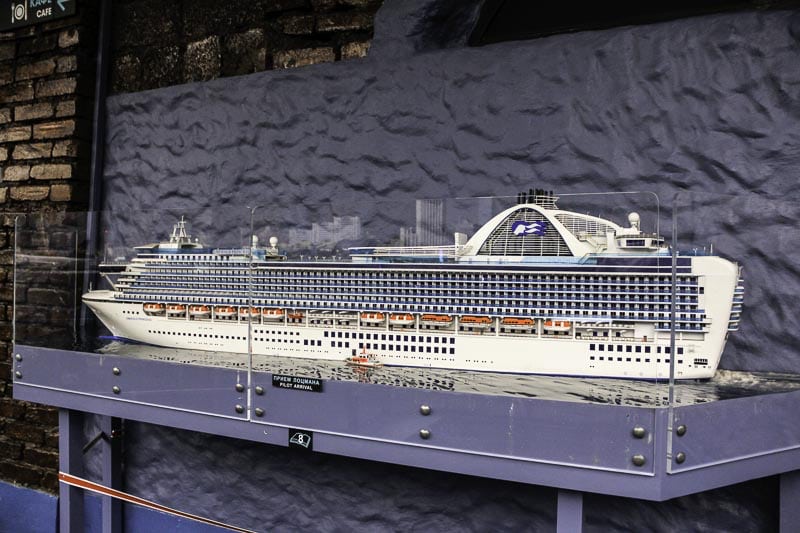 Here's Emerald Princess that often brings thousands of visitors to St. Petersburg. And the tall ship docking on the Neva is Wind Surf.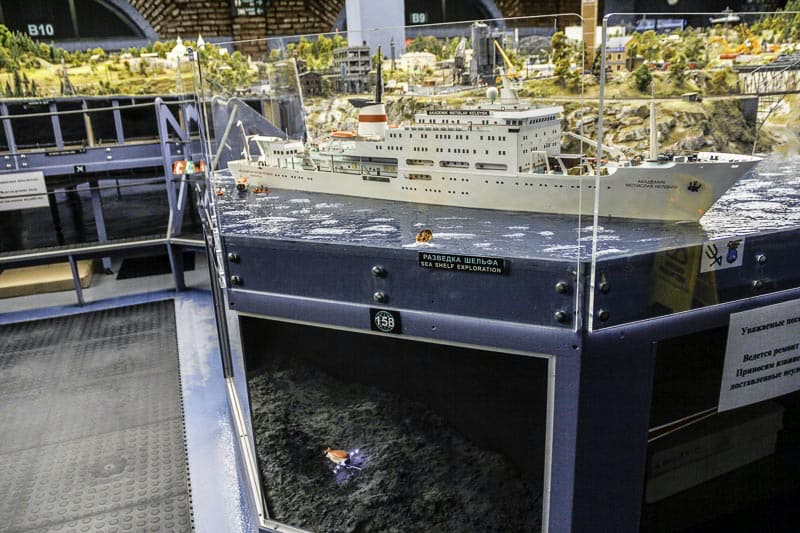 A very famous research vessel called "Academician Mstislav Keldysh" is exploring the sea bottom of the Arctic Ocean. Our visitors remember this ship from the movie Titanic.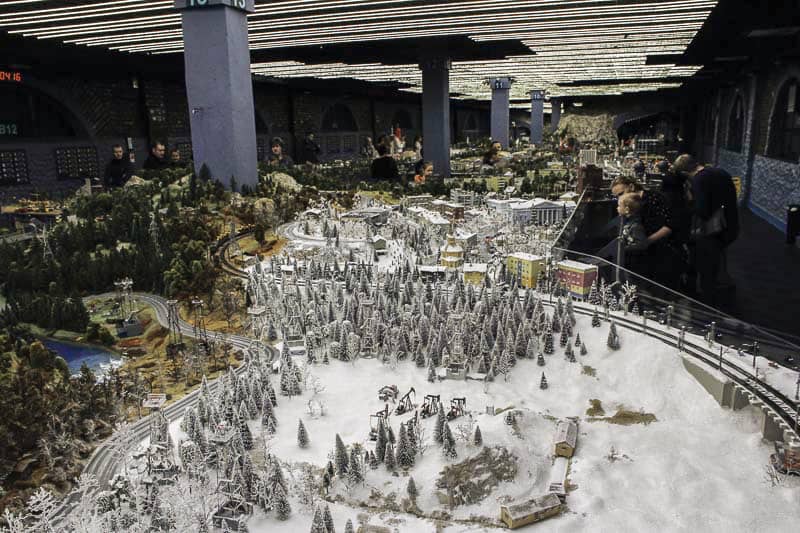 Siberia usually associates with Stalin's concentration cmps – not many people realize that Siberia is a huge territory spreading from the Arctic Ocean and down to the borders with China and from the Ural Mountains all the way to Vladivostok. Siberia encompasses a number of climate zones, many million-plus cities, military bases, oil fields, etc. etc. etc.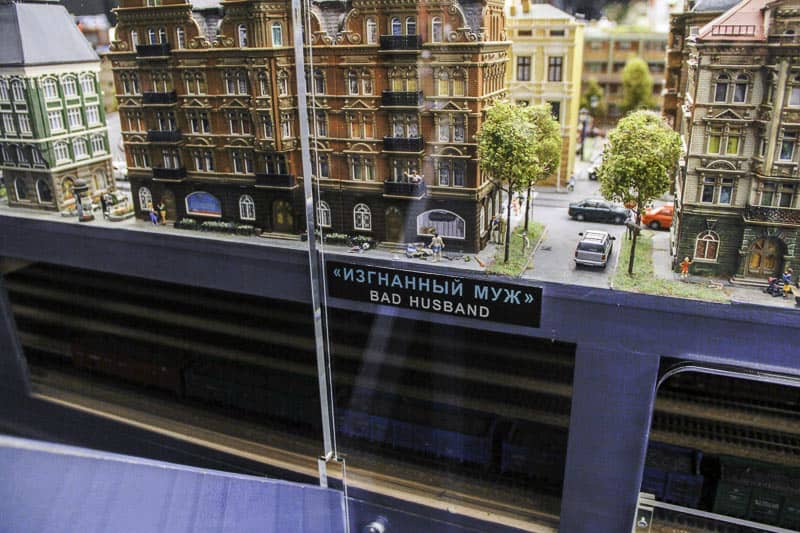 Hidden miniature scenes from lazy days at the beach or in the mountains to workdays at the farm, factory or construction sites – a model of daily life, Russian realities are represented with wit and sense of humour. Visitors can peek inside a submarine or an apartment house, see a rock concert, a fair or a competition.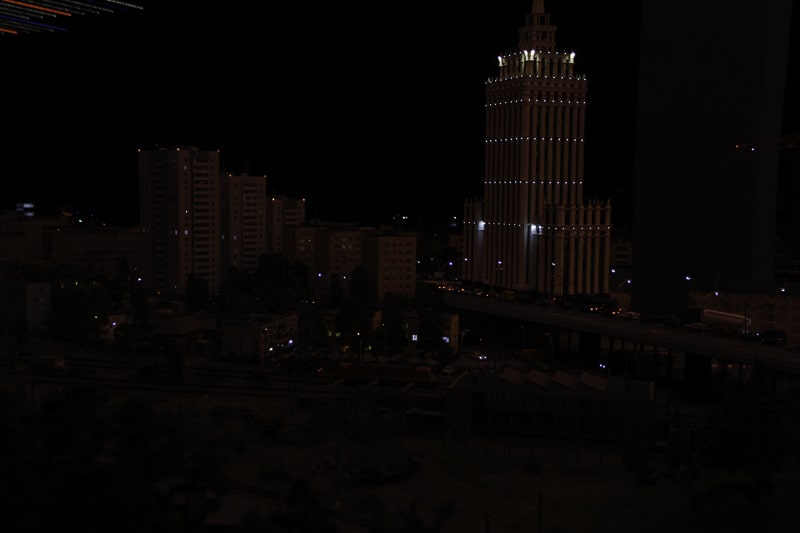 If the light goes off or there's a lightning and thunder – don't get started. It's part of our life too. "Day" and "night" change here every 13 minutes. At "nighttime" tiny street lights and windows of the houses start to glow and the whole model looks different. Suddenly more real than gigantic people around.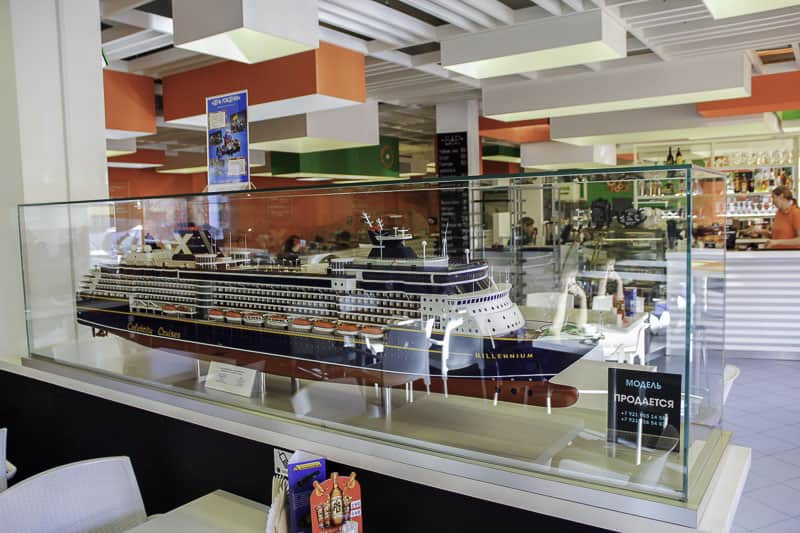 Here you can have a meal or a snack, or just sit back with a cup of coffee. But one can't avoid models even in the comfort area. The food is good and prices are reasonable.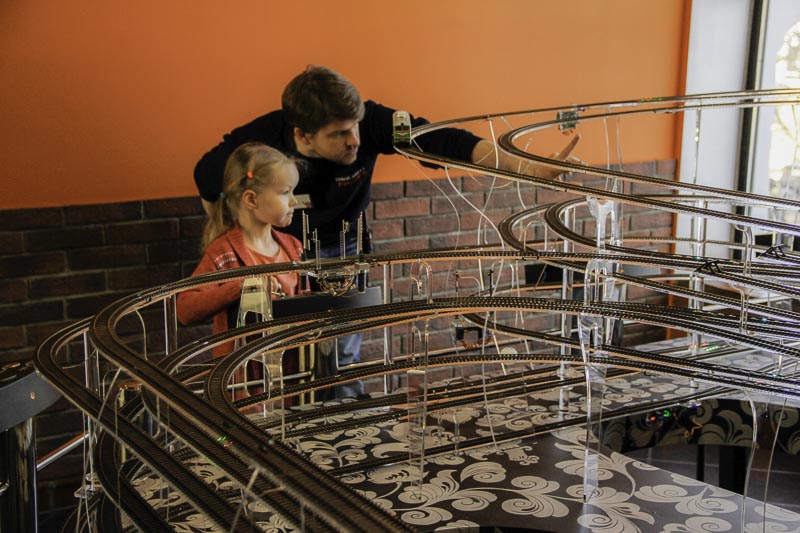 A new entertainment here is a little room where one can operate a model train. There are 6 models to choose from, each model has a dashboard. Pressing the buttons and turning the bars one can regulate speed, turn on and off headlights, reverse points, change colour light signals. My kids were thrilled. The price is moderate: 100 RUB for 4 minutes of pleasure.
The museum has an elevator and is 100% accessible.
Grand Layout "All Russia" is open daily.
Ticket prices: kids under 3 y.o. – free visit,
Kids of 3-13 y.o. – 280 RUB pp,
Adults 14 y.o. and older – 480 RUB pp
It is possible to rent a field glass for the price of 250 RUB, deposit: 500 RUB.
Audio-guides are available in English, German and Russian for 250 RUB, deposit: 500 RUB.