Vasilievsky Island is the biggest in St. Petersburg. The population of the island alone is over 1 mln people – almost 1/5 the city's entire population live on Vasilievsky. The eastern cape of it is called "Spit" (Spit of Vasilievsky Island), it divides the Grand Neva River into two branches – the Small and the Big Nevas. This place never fails to impress: the vast space of the Neva and views across the river to such architectural masterpieces as the Hermitage and Peter and Paul Fortress give a special charm to the Vasilievsky Island ensemble.
Rostral Columns
Everything on Vasilievsky Island Spit – from graceful Rostral columns, majestic Exchange to the contemporary memorial sign – is permeated with the maritime spirit. Everywhere you look you will find a reminder that this area used to be the main centre of commerce and harbour.
Symmetrically located Rostral Columns used to serve as lighthouses. They are decorated with imitation prows of Turkish and Swedish ships destroyed or captured by the Russian Navy in the 18th century. Hence the name – Rostral – which in Latin means "prow". Rostral Columns, apart from the purely routine function, had to remind of Russian Naval victories just like ancient Roman monuments.
Nowadays the lighthouses are lit on special occasions. If you come to visit St. Petersburg around the New Year period, or on the contrary in June, when the Day of Russia is celebrated or graduation balls are marked, you have a chance to see flame on the old beacons.
Laws of Symmetry and Commodity Exchange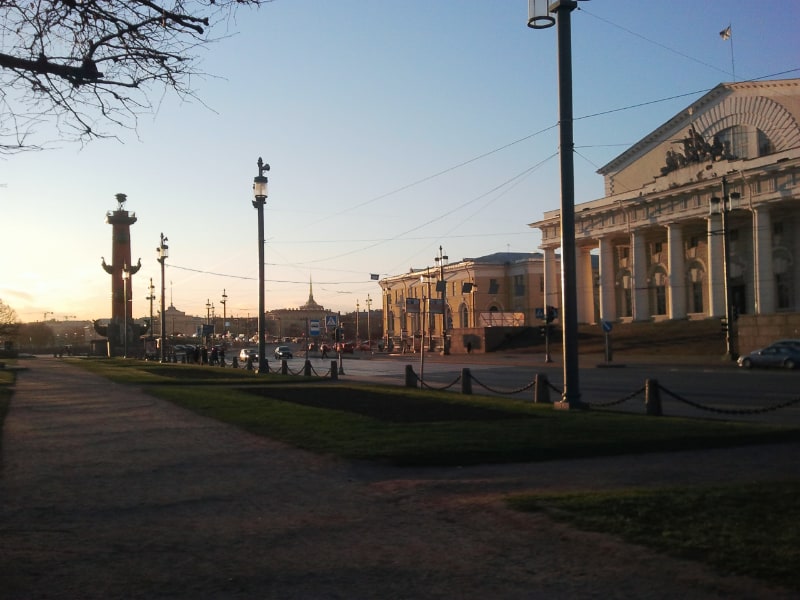 The whole ensemble of the former harbour was planned out by Tomas de Tomon, a Swiss architect who fell in love with the vast vistas and expanse of the Neva River delta. It was his idea to allocate Exchange Square on reclaimed land: the spit was extended 123 metres into the river creating the square and the Spit as we know it.
The centerpiece of the Spit is the former Exchange building. Built in 1805-1810, the temple of commerce was modelled on one of the Greek religious temples. The chariot of the sea god Neptune decorating the Eastern façade is another reminder that maritime trade was the lifeblood of this sea-oriented city.
After the 1917 revolution the Exchange was closed and for a long time the building housed the Central Naval Museum. Since 2014 it belongs to the Hermitage. Historic restoration works have been going on since then.
The law of symmetry and balance rules the Vassilievsky Island ensemble. Two symmetrical Warehouses flank the former Exchange on either side. Nowadays house two museums: Zoological and Soil Exploration. Two bridges connecting the Spit with other districts of the city also look alike, although constructed at different times.